Travel back to a time when men were wiseguys, women were "B-girls," and vice came in the form of flipperless pinball machines. In the mostly forgotten noir film "Portland Exposé," based on a pictorial spread about true-life vice in Portland's in a 1957 issue of LIFE Magazine, you get all of that, plus Frank Gorshin ("The Riddler" in the 60s Batman TV series) as a child predator, and some amazing shots of Portland in the late 1950s. Don't be a hophead – take a listen.
To see a map of all the locations from "Portland Exposé" — and from all the other "Portland at the Movies" movies, click here!
Locations seen in the film:
Downtown from PGE Park area

HillVilla Restaurant, now the Chart House restaurant on Terwilliger

HillVilla Restaurant w/ Ross Island Bridge in Background (currently Chart House)


More of downtown from PGE Park

Trinity Episcopal Cathedral, NW Everett and Trinity

Rose Garden

Unknown (please drop us a line if you know this location!)

Portland Towers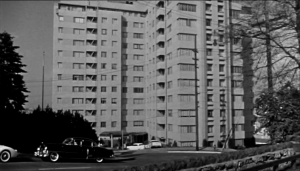 Portland Towers Entrance

"Kelly Hotel," 11 NW Trinity Pl.

Unknown Bridge with Inexplicable Telephone in the Middle of it

Portland Labor Temple, NE MLK and Holladay

NE Hassalo St. (Portland Labor Temple in the background)

Union Station

Union Station Interior (Iron Horse Restaurant in background)

Exterior Union Station, looking south down NW 6th

Portland waterfront (now Tom McCall Park), with Oregon Journal/KPOJ/Public Market building on river

NW Davis, between 11th and 12th (Portland Armory in background)

"Steel Bridge Cafe," NW Glisan and 2nd Ave.

PDX Airport Neon Sign

PDX Tarmac

PDX United Terminal

The Town Club 2115 SW Salmon

Podcast: Play in new window | Download